WebODF is currently primarily a tool for viewing ODF documents. Features with regard to programmatic editing and user editing are under development. The viewing capabilities are remarkably good for such a small project. This is achieved by using the browser technologies.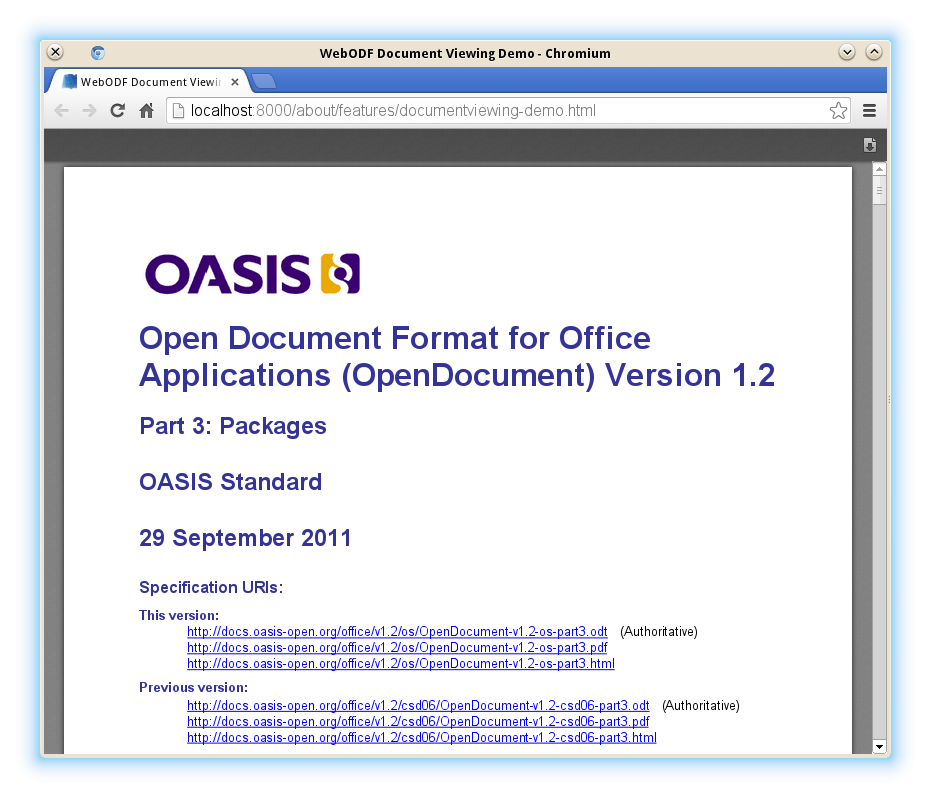 WebODF rendering a text document.
Document viewing
Text documents are rendered as they would be printed (with a few exceptions). This makes WebODF a good tool to show people what their content would look like when used in an office suite. The font and style information is preserved. By installing the used fonts on the server that hosts WebODF or by including them in the application that uses WebODF, one can assure that the documents are shown as they were meant to be shown.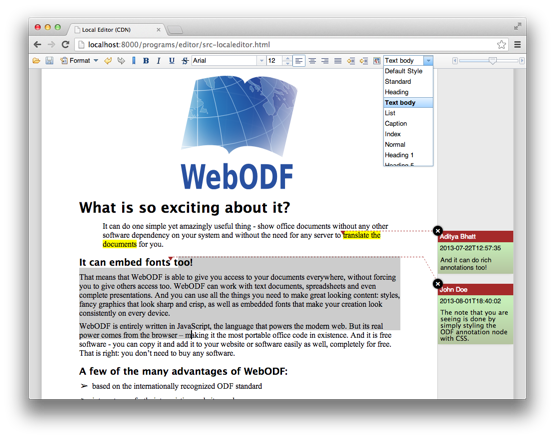 Editing a document in the WebODF Editor.
Document editing
You can open, edit, and save text documents in the Editor purely client-side, without the need to communicate the file to a server. The Editor webapp allows you to apply various formatting styles to text, manipulate paragraph styles, insert images, and work with annotations.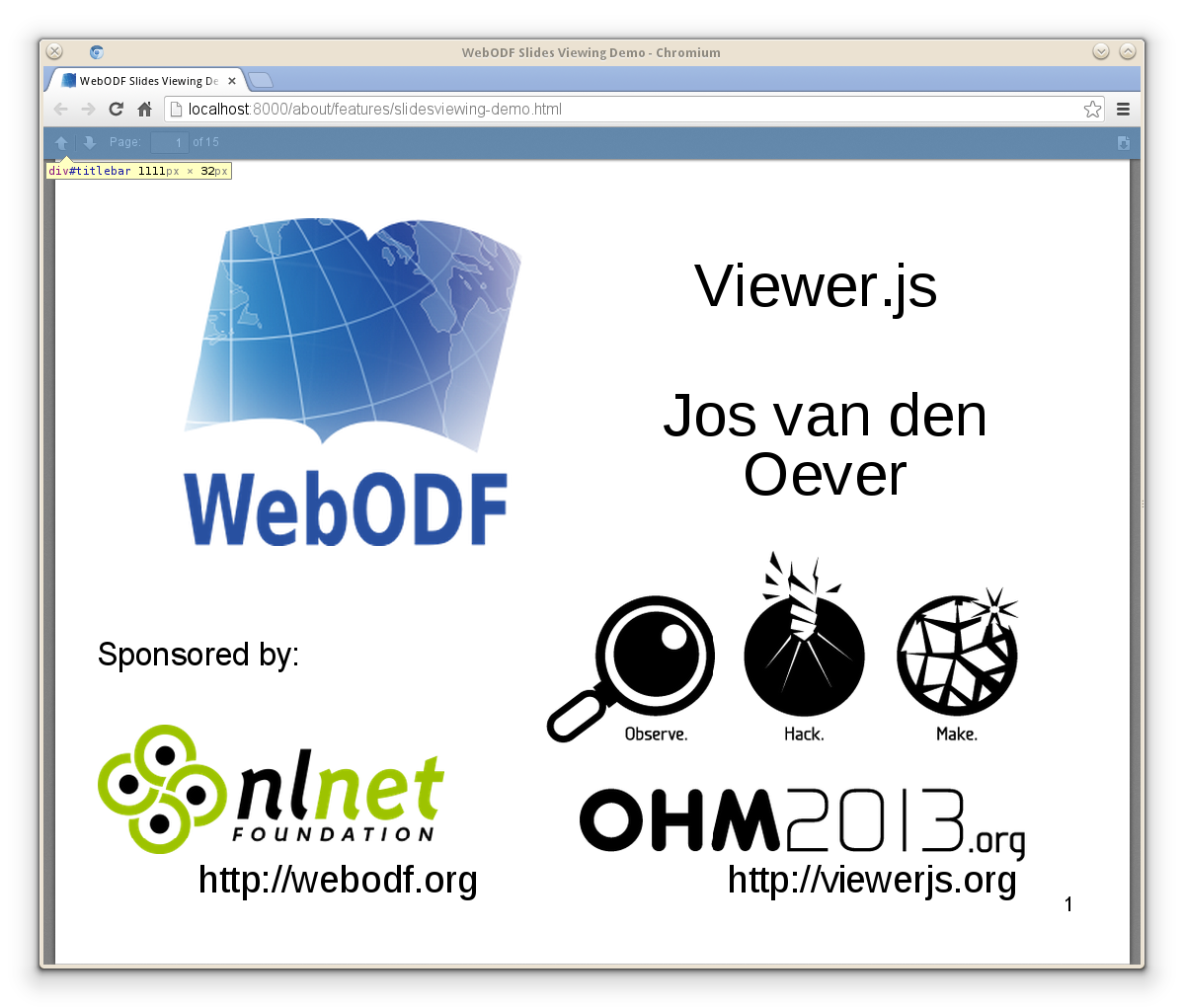 WebODF rendering a presentation.
Slide viewing
Why rely on the availablility of an office suite when giving a presentation? With WebODF, you can give your presentations from the browser. That way, it is easy for people to follow the presentation as you present it and link to it from social media and websites. One can write a presentation and put it on a website without doing any conversion; the OpenDocument presentation can be used straight away.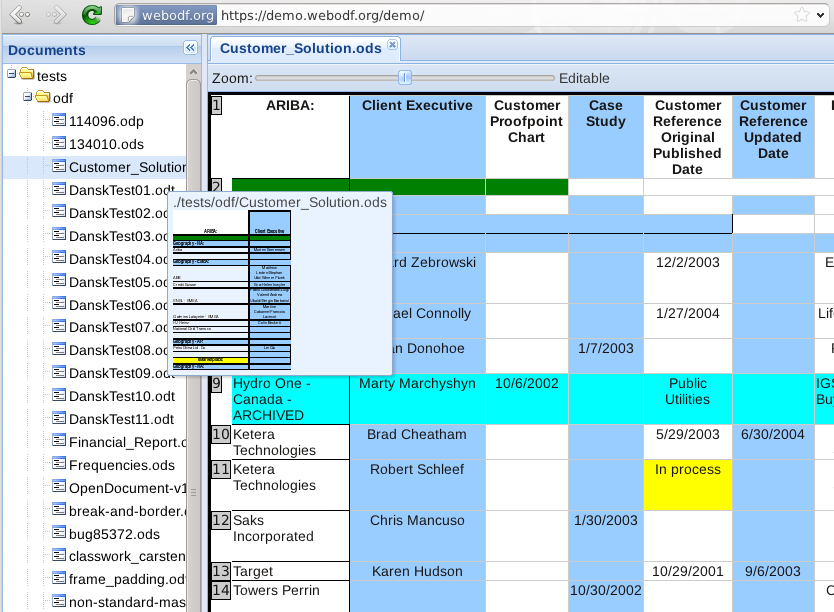 WebODF rendering a spreadsheet.
Spreadsheet viewing
Making numbers insightful is hard on the web. Working with spreadsheets is an important and sensitive part of day-to-day business. With WebODF, spreadsheets can be easily integrated into webpages. Save them from the Excel or OpenOffice as OpenDocument file and link them into your online presence with ease.
Browser support
The full range of browser families is supported by WebODF. It works in Internet Explorer 9, Firefox 3.5 and up as well as in Chrome, Safari and Opera. The rigorous testing framework of WebODF supports us in maintaining high quality support for all these browsers.
Mobile device support
Accessing your office files on the go is valuable. Besides supporting desktop browsers, WebODF also runs on mobile web browers and can be used in mobile apps. There is an Android app that uses WebODF already and one for iPhone and iPad is in the works.
Independent of toolkit
WebODF uses clean JavaScript code with no external dependencies. This keeps the size small and quick to load, but also makes sure that there are no restrictions no the web framework: WebODF can be combined with any web framework.